FULL
VISION
AND
EYE
HEALTH
ASSESSMENT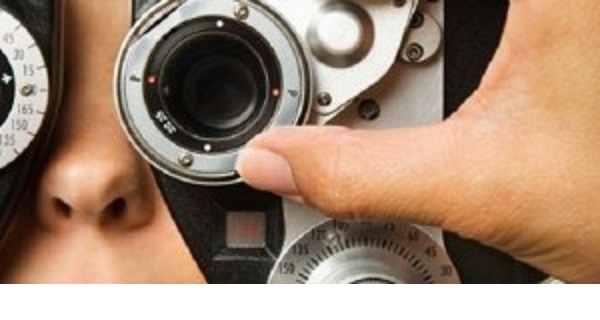 We are a full scope practice offering many services.
However the most important service we provide is a FULL COMPREHENSIVE VISION AND EYE HEALTH ASSESSMENT (eye examination) which includes:
• Internal and external eye health
• Binocular vision or eye coordination
• Prescription for distance or near spectacles
• Eye disease such as cataracts, glaucoma and macular degeneration
• Side effects of prescription medication in the eye
• Colour Vision
• Eye health relating to systemic disease such as diabetes
• Suitability for treatment options for vision correction such as glasses, contact lenses, or laser correction.
News!!!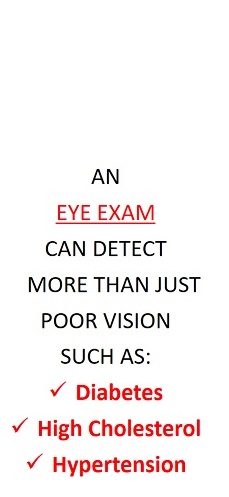 New Legislation grants Ontario Optometrists the right to prescribe therapeutic drugs. This service is available for our patients at both locations. Therefore, treatment is now available for conditions such as Eye Infections, Iritis and Glaucoma.
OTHER SERVICES AVAILABLE:
Emergency or Urgent Care – Same day emergency visits always accommodated
Contact Lens Evaluations & Fittings
Contact Lens Sales
Prescription Eyeglasses & Sunglasses (Ajax office only)
Non-prescription Sunglasses
Co-management of Laser Surgery
Co-management of Cataract Surgery
Computerized Visual Field Analysis
Opto Map Retinal Scan
Pachymetry
Perceptual Testing for Children
Dry Eye Therapy – Punctal Plugs
Heidelberg Retinal Tomography (HRT)
Low Vision Assessments
House Calls
OHIP EYE EXAMINATION COVERAGE
Children, teenagers and seniors every year
Patients with medical conditions eg: diabetes & glaucoma every year
Patients on disability and social services every two years
Patients who do not fall into the any of the above categories are strongly recommended to have yearly full comprehensive eye examinations, which are still available to you on a cash payment basis. However, third party or employer health benefits may provide coverage for you, please investigate your options before your examination.
How
To
Prepare
For
Your
Eye
Examination
When you come for your eye examination you should bring the following:
Your glasses and contact lenses
Sunglasses to reduce light sensitivity due to dilation drops
A list of any prescription drugs that you are currently taking
A list of any questions you may have about your vision
What
You
Can
Expect
During
Your
Eye
Exam
History:
Our doctors will firstly review your personal and family health history. They will also ask if you are experiencing any visual problems, what current medications you are taking, as well as the specific visual demands of your occupation and hobbies.
Visual Acuity:
Your ability to see small detail clearly at both near and far distances will be assessed by using a letter chart and a picture chart for children.
Refraction:
A retinoscope will be used to check for nearsightedness, farsightedness and astigmatism. If corrective eyewear is necessary, then an instrument called a phoropter is used to refine your prescription.
Binocular Vision
Our doctors will determine how well your eyes align or coordinate when working together.
Peripheral Vision
Using handheld targets or a visual field perimeter our doctors will measure how well you see objects that are not directly in front of you. This can help to detect such conditions as glaucoma, diseases of the retina, and even some neurological problems.
Pupil Response to Light
By shining a light in your eyes and watching the pupil's reaction, our doctors can detect possible neurological problems.
Colour Vision Testing
You will be asked to describe figures in a series of illustrations made up of numerous coloured dots or circles. This tests your ability to differentiate colours.
Ocular Health:
The external structures of the eye will be examined by a slit lamp, and an ophthalmoscope is used to see the retina and optic nerve at the back of the eye. Diseases specific to the eye and even the entire body can be discovered through these tests.
What
About
Dilation
Drops?
For our Optometrists to carry out a full eye examination, they will often have to dilate your pupils with eye drops. But you may wonder why this even needs to be done.When your pupils are constricted there are certain parts of the back of the eye that are imp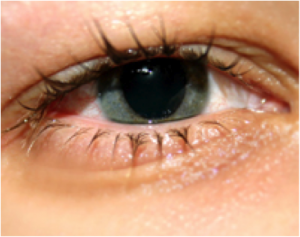 ossible to examine. When our doctors shine a bright light in your eye, your pupil is constantly constricted. Therefore, eye drops dilate your pupil which enables the optic nerve and retina to be completely examined.
Drops generally affect vision for two to three hours, and do not typically influence distance vision – though reactions vary from person to person. Your eyes may be sensitive to light and you may have trouble reading. Wearing sunglasses after your appointment will help minimize the light sensitivity.
However, if you do not have sunglasses we will be more than pleased to provide you with a disposable sun shield.
HELPFUL
LINKS
Canadian National Institute for the Blind
Optos Inc. (Retinal Scan)